A-Level Core Subjects: How Students can Prepare Online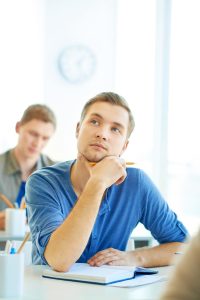 Outstanding grades in important A-level subjects undoubtedly make a big difference to the future path of any student. They can impact which university the student can enrol in and also influence life and career opportunities.
But let's first get a few things straight.
What are A-levels?
Advanced-level qualifications are subject-based qualifications assessed by a series of examinations that can lead to university, further study, training, or work.
According to UCAS, a student needs to get at least five GCSEs in grades 9 to 4/A* to C and at least grade 6 in the specific subject(s) they want to study to be able to take A-levels. They can then study three or more A-levels over two years, but specific requirements to study A-levels will vary across schools and colleges.
If you have a particular career, job, or further study in mind, you may need to choose specific A-levels to meet entry requirements, so ensure that you check these first before you pick your A-level subjects.
What are core A-level subjects required for further education?
Core subjects, also known as facilitating subjects, are the A-level subjects most commonly required or preferred by UK universities to enter a degree course and successatschool.org list Biology, Math, Physics and Chemistry among them, besides classic and modern languages, for example.
Upon studying for a science degree, the students are required to have two to three A-levels in either maths, physics, chemistry or biology. Depending on the degree, students may have to also study a specialist course at A-level, such as engineering, which combines those subjects together. 
You can head to www.completeuniversityguide.co.uk where you can find details of the courses that one can study at top UK universities.
What is A-level tutoring?
Getting A* is not easy. Schools try to prepare their students as best as possible for their A-level exams, but they cannot cater to all student needs and individual learning requirements to ensure the best A-level results due to lack of time for individuals focus.
When it comes to individualised A-level tutoring, mainly in the form of one to one or small group sessions with a knowledgeable tutor, better A-level exam preparation and results can be achieved through detailed and targeted learning.
Why get an A-level Online Tutoring in an Ed-Tech Platform?
With the advent of the internet, students no longer need to meet their tutor face to face and can access much more optimised learning that is fully catered to their requirements with help of Analytics & Machine learning technology platforms.
But there are more reasons and advantages for A-level Online Tutoring Subscriptions:
The first advantage is technology enabled A-level online tutoring
The first advantage of a technology-enabled online tutoring platform like Neon Edu is that students can prepare for their A-levels with weekly online live classes, additional mentoring sessions and personalised guidance via their real-time dashboard. Then the advanced Analytics and AI-enabled platform monitor a student's progress in real-time. This means that parents have a clear overview of the ongoing progress with the help of data-driven learning.

The second advantage is Data Driven Learning
Via the Neon Edu platform, the advanced Machine learning algorithm constantly analyses 20+ KPIs of each student and predicts the progress & grades. Mandatory quizzes and assessments are conducted each week to collect data and identify areas of weakness and strength down to the subtopic level.
The third advantage is A-level subject specific tutoring
Neon Edu offers A-level subject-specific tutoring for the above-listed facilitating subjects with a dual teacher system with an allocated tutor and mentor. A dual-lesson from an experienced subject tutor and a young mentor who has recently walked the same path, studying at Oxford, Cambridge, UCL , Kings or Imperial College University will provide the learner with several additional benefits and features.
Here are some unique features:
A-level Math tutor
Neon's Young Genius Math subscription plan is designed for students with higher math ability aiming for an A*. The Young Achiever Math subscription helps students to narrow the gap between AS/A level & GCSE and improve their A-level math grades by learning the fundamental math concepts and their application with effective math practice.
A-Level Biology tutor
Biology A-level tutoring with Neon-Edu focuses on learning concepts and vocabulary for those demanding A-level exams. By taking topic tests, for example. Neon's Biology Tutors help to revise efficiently, based on where each student stands to ensure they can later study medicine or any other related degree.
The two plans for A-Level tuition at Neon Edu currently available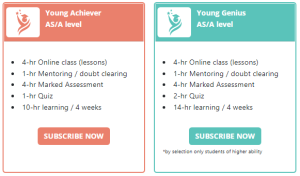 Depending on your goals and requirements, one of these plans may be more suitable and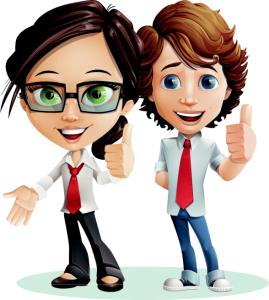 you can find more information here or contact us.
In any case, getting additional A-level tutoring can only make anyone a better student who can
achieve anything they desire with the right A-level grades in their chosen subjects for their
future career path.