GCSE Boundaries Explained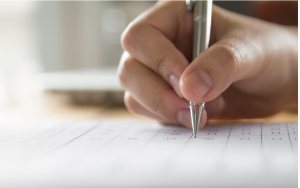 In 2017, grade boundaries in the UK changed. We went from the familiar A*-G grading to the number system we now know as 9-1. The change started with English Literature, English Language and Maths in 2018, with all subjects transferred to the new system by 2020.
So, what is this new grading system? In this blog post, we will unpick these GCSE grade boundaries and discuss how they are set, as well as how they compare to the previous system.
What is this new system?
Within this new grading system, the new form of numerical numbers is comparable to the old letter systems as follows:
9 = High A*
8 = Low A* or high A
7 = Low A
6 = High B
5 = Low B or high C (strong pass)
4 = Low C (standard pass)
3 = D or high E
2 = Low E or high F
1 = Low F or G
U = Ungraded
You may notice, the number scale is not a direct equivalent to the previous scale, but they do meet at certain points. The new system was designed so the bottom of grade 1 aligns with grade G, the bottom of grade 4 matches grade C, and grade 7 aligns with the bottom of an A grade.
In essence, this means any student who would have achieved at least a grade C in their GCSEs, would achieve at least a grade 4 within the new system.
What do students need to pass?
To obtain a standard pass, pupils need to achieve a 4. To achieve a strong pass, a 5 is needed.
This means a student who receives nine results at grade 4 has technically passed all of their exams. However, school league tables are based on the percentage of pupils that obtain a 5 or above. With this in mind, many colleges and sixth forms insist applicants hold a minimum number of GCSEs at grade 5 or 6 as a condition of entry.

Why have the grade boundaries changed?
The grade boundaries began their transition as part of the 2014 curriculum changes put in place by the then-Education Secretary, Michael Gove.
While previously, many courses included coursework as part of the grading, the overhaul included changes to how subjects were examined, with grades in almost every subject decided in final examinations.
The new examination layout was designed to be more challenging, with pupils learning for 2 years before sitting the final exam. In the previous curriculum, pupils would work through a series of modules and complete regular assessments throughout the course duration.
The government argues the new changes mean it is easier to recognise the achievements of high-attaining pupils, as the new grade boundaries allow for more differentiation between pupils.
It is also argued that the change from letters to numbers makes the grading more understandable to employers, as they are able to distinguish if a candidate has taken the new, more challenging GCSE exams or if they were part of the previous grading scheme.
What percentage of students achieve each GCSE grade?
Achievement percentages are, of course, dependent on a variety of factors and will vary depending on year group and subject. Grade boundaries are not created to ensure a certain proportion of the population achieves a particular grade. Instead, they are created after the exam has been sat and all the marking has been completed. Senior examiners will then decide on grade boundaries based on a number of factors including feedback from examiners, previous exam papers, data from the previous cohort, and other relevant statistics.
However, by looking at previous achievement percentages we can gain an idea of how many pupils achieve at least a pass grade.
The following table shows the GCSE outcomes across all subjects, for all ages, at grade 4 (C) and above, from England only.
| | |
| --- | --- |
| Year | GCSE percentage at grade 4 or above |
| 2016 | 66.6% |
| 2017 | 66.1% |
| 2018 | 66.6% |
| 2019 | 67.0% |
| 2020 | 75.9% |
| 2021 | 76.9% |
| 2022 | 73.0% |
You may notice a rise in 2020. The increase is reflective of the pandemic, where examiners had to be more lenient to pupils who missed out on many hours of learning due to the national lockdown. The positive is that figures have mostly stayed high since this rise.
For those aiming for grades 7 (A) and above, the below table shows how many pupils within each region of England achieved grade 7 or above from 2019 to 2022.
| | | | | |
| --- | --- | --- | --- | --- |
| Region | 2019 | 2020 | 2021 | 2022 |
| North East | 16.4% | 22.0% | 24.5% | 22.4% |
| North West | 18.6% | 23.5% | 25.9% | 23.1% |
| Yorkshire and the Humber | 17.8% | 22.3% | 24.4% | 22.4% |
| West Midlands | 18.1% | 23.0% | 25.3% | 22.8% |
| East Midlands | 18.3% | 23.0% | 25.1% | 22.5% |
| Eastern Region | 20.5% | 25.9% | 28.5% | 26.2% |
| South West | 20.4% | 26.1% | 29.1% | 25.3% |
| South East | 23.5% | 29.0% | 31.9% | 29.2% |
| London | 25.7% | 31.4% | 34.5% | 32.6% |
Figures are taken from Infographics for GCSE results, 2022 (accessible) – GOV.UK (www.gov.uk)
As you can see, roughly 22%-30% of pupils achieved grades 7 and above in last year's cohort, which is a promising figure. Even more so when you consider this number is increasing year by year in most regions.
Conclusion
In conclusion, the GCSE grading system in the UK has undergone some significant changes in recent years. We have gone from traditional letter grading (A*-E) to numerical grading (9-1).
It is important to remember that grade boundaries change between years, subjects and exam boards, meaning students should aim to perform to their best ability, rather than towards a specific mark. However, understanding these boundaries can be a valuable tool for pupils, parents and educators alike in order to make informed decisions and take necessary steps toward a desired grade.
If you are working towards your GCSEs and need help with the grade boundaries, contact us on (insert contact number) to schedule a call with one of our expert tutors who are on hand to help.